Financial Results
OCBC Grows Fees A Fifth Led By Wealth Management, Profit Falls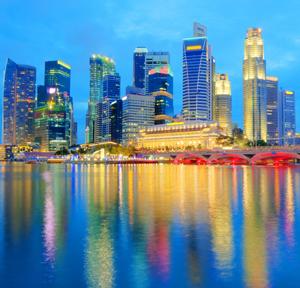 A 10 per cent fall in OCBC's quarterly profits points towards a difficult period ahead for Asian lenders, as market volatility continues to spook investors.
Oversea-China
Banking Corporation, Singapore's second-largest bank, grew fees and commission
revenues by a fifth year on year during the first nine months of 2011, led by
wealth management, loans and trade-related fees.
The bank said
in its third quarter results today that wealth management had performed
strongly, with revenues from insurance, private banking, asset management,
stockbroking and sales of other wealth management products, up 2 per cent to S$1 billion ($780 million) during the first nine months on the same period last year.
As a share of
total revenue, wealth management contributed a quarter, broadly similar to a
year ago. The private banking franchise ofOCBC continued to expand, with assets
under management increasing 11 per cent in the first nine months to $29 billion
as of 30 September 2011. In January 2010 OCBC bought ING Asia Private Bank for a reported $1.5 billion. The combined private banking businesses of IAPB and OCBC was subsequently named Bank of Singapore.
However, the positive
wealth management and private banking figures bucked downbeat quarterly
results for the rest of the bank.
Profit for July to September at OCBC Group slumped
10 per cent to $513 million from S$570 million a year ago, due to trading losses, a greater than
expected fall. Analysts surveyed by newswire Reuters predicted a S$538 million average.
Volatile markets were blamed for a S$68 million loss in trading actives, while contributions from the bank's insurance arm, Great Eastern, fell over a half from a year earlier.
The group's annualised return on equity, based on core earnings, for the first nine months this year was 11.1 per cent, compared with 12.7 per cent a year ago, while annualised core earnings per share for the same period was 64.5 cents, compared with 69.1 cents a year ago.
"The volatility
of the financial markets in 3Q11 had an adverse impact on trading income at
OCBC Bank and insurance profits. Trading
performance was affected by the challenging financial markets, resulting in a
significant decline in income from a year ago," said the bank.
"Given the volatile market conditions, overall, we are quite satisfied with our third quarter results, which clearly reflected the strength of our customer businesses. With economic growth slowing, we are well- positioned and intend to continue supporting our customers across all our key markets," said chief executiveDavid Conner in a statement.
The news points towards a difficult period ahead for Asian lenders generally as market volatility continues to spook investors. Two of Singapore's three listed banks saw net profit fall for the quarter. Only DBS Group, Singapore's largest lender, outperformed with a surprise 6 per cent rise in quarterly net profit due to strong interest income and a one-off gain. United Overseas Bank yesterday posted a 24 per cent drop in third quarter net profit, due to falling trading income and losses on its investment holdings.