UK's Baillie Gifford Steps Up China Game
Tom Burroughes, Group Editor , 24 September 2020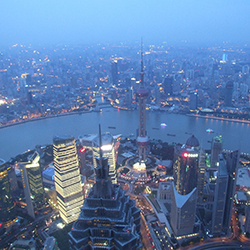 A new office in Shanghai and registration as a Private Securities Fund Manager are both big statements of intent by the firm. A partner and chairman have also moved to Shanghai as part of the development.
The UK investment group Baillie Gifford, the investment management partnership, has opened an office in Shanghai, part of a trend of Western firms setting up shop in Asia's largest economy.

Baillie Gifford has also registered as a Private Securities Fund Manager in China.

The firm launched its first China fund in 2008, having been investing in the country for several decades. It has invested in more than 100 companies based in mainland China, equating to around £45 billion ($57.3 billion), or about 17 per cent of total AuM. It also works with entities such as Alibaba, Ant Group, Meituan, NIO, Pinduoduo, Ping An Good Doctor, TAL Education and Tencent.

Before the new office was opened, the business's global investment teams had all been based in Edinburgh.

"The partners believe that a local presence will deepen existing relationships with Chinese companies, improve understanding of cultural developments and forge more academic partnerships," the firm said in a statement.

John MacDougall, partner and chairman in China, has moved from Edinburgh to Shanghai.

"We have been investing for our clients in some of the most inspiring and influential Chinese companies for decades, providing long-term capital that enables them to innovate and grow for many years. That innovation is accelerating as Chinese entrepreneurs harness technology to create new business models, products and services for millions across China, transforming entire industries," he said.

"We are building a team based in Shanghai to provide devoted, local expertise to boost our research into these rising Chinese companies. We hope that combining knowledge from the team on the ground with broader perspective from investment teams in Edinburgh will allow us to assess the opportunities with greater insight, in the search to find China's future winners," MacDougall added.

Amy Wang, head of China, was hired last year to build the team in Shanghai and develop client relationships.

Linda Lin, who grew up in Chongqing, has returned to China as head of investment research after six years with Baillie Gifford in Edinburgh. She is joined by investment manager, Rio Tu, originally from Hubei Province, who spent five years with the firm in Edinburgh.

Baillie Gifford has also been recruiting local people for roles in operations, investment research, trading, compliance, business development and marketing, and welcomed two interns for the summer from the School of Life Sciences at Tsinghua University, one of its academic partnerships.
China is opening up its investment markets and encouraging foreign-based wealth and investment management firms to conduct onshore business in the country. The trend is paradoxical at a time when China has been at odds with the West over COVID-19, trade, intellectual property and issues such as the mainland's new security law for Hong Kong.
In August, the rating agency Fitch said that more investment fund managers will bid for onshore licences to run funds in China, a $2.2 trillion market that is still a tenth of the US equivalent as at the end of June. Over the three years to the end of the first quarter of this year, China's mutual fund assets grew by almost 70 per cent, while global mutual fund assets in the US expanded by just 12 per cent, according to ICI Global data. China's mutual fund industry growth during the coronavirus pandemic is also notable, as assets grew by 11 per cent in the first quarter – and global mutual fund assets slipped by 13 per cent in the same period.
International investment managers' ability to access the Chinese domestic market has been limited. In terms of asset raising, these managers could enter only into joint ventures with domestic entities. However, the 51 per cent cap on foreign ownership of investment firms was removed in April 2020.