WM Market Reports
BNP Paribas' Wealth Arm Builds German Business Momentum, Broader Growth Beckons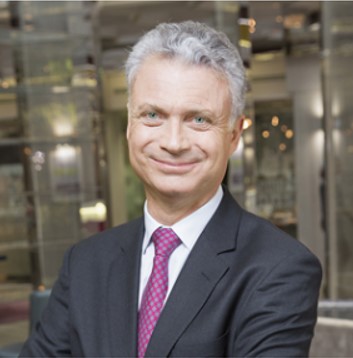 The Paris-based group, which operates in a number of countries, spoke to this news service about its business growth in nations such as Germany, as well its work in hubs such as Singapore and its Asian growth progress.
For a France-based European banking group, the market in neighbouring Germany is proving to be a successful venture for BNP Paribas Wealth Management as it taps into expertise in areas such as property, the firm told WealthBriefing recently.
Almost five years ago when the bank spoke to this news service about the German market, it was upbeat. And whatever storms and upheavals there have been around the world in the intervening period, Vincent Lecomte (pictured) says the optimism that drove the strategy is undimmed.
"We have already a business [in Germany] that focused mainly on high net worth individuals which has proven to be very successful by leveraging our online digital bank. In addition, we decided to launch a new activity from scratch but capitalising on the strong footprint of the group there to focus on the Mittelstand [sector of medium-sized German firms' owners] and we hired 85 people in three years," Lecomte said at the firm's offices in the Marylebone district of London. "A significant part of the top 30 billionaire families in Germany are with us."
"Germany is a strategic country for wealth management and for the group," he continued. There are about 6,000 employees within BNP Paribas in Germany advising more than six million private clients, as well as around 5,000 companies and institutional customers with a portfolio of financial services. BNP Paribas has a total of 184,000 employees worldwide, of whom 145,000 are in Europe.
"We want to be the preferred partner of those [Mittelstand] companies. To do so, our global network at BNP Paribas level is a real asset to connect with the families. As they [firms' owners] need to diversify their banking relationships with a bank capable to offer a wide range of services, we are increasing our share of wallet," he said. Today, Germany accounts for about €15 billion ($16.4 billion) of assets for BNP Paribas Wealth Management.
With a presence in a number of major German cities, such as Frankfurt, Berlin and Munich, the group is capitalising on its strong on-the-ground presence, Lecomte continued.
His colleague, Edmund Shing – global chief investment officer – added in the same interview how the bank is also active, and increasing its work in German-speaking Switzerland, for example. "We find the same mindset as in Germany…we support enterprises, such as over exports. We are very `local'."
Even after a tough year for markets in 2022, it appears that numbers are stacking up nicely for the group. As announced in February this year, BNP Paribas said that its wealth and asset management division's revenues rose almost 7 per cent year-on-year to €3.896 billion ($4.18 billion) in 2022, driven by rising net interest income in the wealth arm as well as rising principal investment activity. At the end of 2022, the wealth arm had €411 billion.
A steady course in turbulent seas
While other banks have sustained well-chronicled problems, BNP Paribas' strength and solidity has proven a boon. Once again, people are reminded that having a broad and diversified client base and capital strength matters, Lecomte said.
"We are about bringing the whole bank to the client," he said, referring to how wealth management clients benefit from the expertise of all parts of the group.
"We plan to grow in the entrepreneurs and families segment in Europe and, of course, in Asia and in the Gulf," Lecomte, who spoke after recently completing a tour around the Middle East, said. And in places such as the UK, BNP Paribas is leveraging its real estate franchise, he said.
What's success like?
A big task these days for banks is having the metrics and data at hand to know whether clients are happier. Many key clients have been invited by the top management of the bank for one-to-one discussions. The group also gets net promotor scores from its HNW clients to set a sense of how many referrals are coming its way – often one of the most reliable measures of progress.
"We are able to support them [clients] whatever the business cycle is…credit is very important to them, as is our ability to invest in people and technology to provide the best expertise," Lecomte said. "In an increasingly complex environment, they need to have clear views on how to better protect their wealth and seize the right investment opportunities."
Lecomte's colleague said a value-added feature has been the international real estate know-how of the group and how it can be deployed to local clients. In markets such as Germany, that's changing, with more foreign firms and expertise entering the fray, Shing said.
WealthBriefing asked the firm what its hiring and talent management goals are.
"Our wealth management business is at the crossroad of many other entities and expertise of the group, which makes working with us attractive both for internal colleagues and for external candidates," Lecomte said. "In 2021, we recruited almost 1,000 people within our different geographies worldwide."