Asset Management
Exclusive: Why Investors Cannot Ignore India's Promise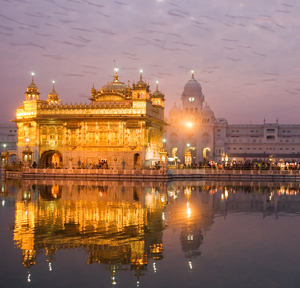 David Cornell, CIO at Ocean Dial Asset Management, discusses with WealthBriefing why India is a top place in which to invest and why he is optimistic about prospects for firms in the country.
Despite rising inflation rates and geopolitical tensions around the world, David Cornell from Ocean Dial believes that Indian investments should feature in an investors' portfolios, highlighting that they have outperformed nearly all major equity markets over the past 10 years.
Talking exclusively to WealthBriefing, Cornell gave a raft of statistics and information points which he says back up the India case. For example, he said that the International Monetary Fund forecasts that India will grow at 8.2 per cent in 2022, by far the best growth rate across all major economies. It is more than double the average growth rate of both the advanced economies (3.3 per cent) as well as the emerging economies (3.8 per cent). This is due to credit-growth improvements and subsequent investment and consumption, building on better-than-anticipated performance of the financial sector. It also has low debt levels, with the household debt/GDP ratio standing at 11 per cent, compared with 87.2 per cent in the UK, and corporate debt has come down too, he added.
Over the long term, Cornell said that mid-cap Indian companies have a compound annual growth rate of 13.5 per cent over 10 years, beating all major equity markets over the past 10 years with the exception of the US and Hong Kong. He also emphasised India's young population, with 600 million having an average age of 28 years, which means that incomes per household will continue to rise. It has a growing middle class, he added, with consumers keen to upgrade the quality of the goods and services they consume as their wealth rises.
Inflation risk?
But higher-than-expected commodity prices are expected to weigh on private consumption and investment, caused by the war in Europe. "India imports 80 per cent of its oil and there is an inflationary risk," he warned. "Food costs (and other necessities) absorb a greater percentage of consumers' monthly incomes. The country has banned its wheat exports to limit inflationary pressure," he said. Even so, Cornell thinks that India is less vulnerable to rising oil prices as it is more economically stable than it was before, thanks in part to the increasing value of exports, in particular in the IT sector. This is just one of the reasons why the market is holding up better than other emerging markets. "There is also less risk of wage inflation in the country, barring some specific sectors such as IT and banking," he said.
Although India needs to make progress in terms of improving its ESG standards and combatting climate change, Cornell pointed out that it is enhancing its renewable energy efforts with the development of its solar industry, in particular.
The government also has big plans to invest in infrastructure, such as bridges and ports, to benefit trade and the manufacturing sector, he said. Residential housing demand is underway again too, he added, and banks are in a position to lend again. Foreign direct investment is flowing in and India has become a much easier place in which to do business since Mody was elected in 2014, he stressed.
India Capital Growth Fund
Ocean Dial, an asset manager, has an India Capital Growth Fund with top 10 holdings including the Federal Bank, the largest holding in the portfolio, as well as Indusind Bank, agro-chemical company Pl Industries and IT services company Persistent Systems. The Guernsey-domiciled fund, which has a net asset value of £125 million ($153 million), aims to provide long-term capital appreciation by mainly investing in listed mid and small cap Indian companies.
Cornell drew attention to the fact that there has been a 13.4 per cent compound annual growth rate in the fund's NAV since the portfolio advisor Gaurav Narain joined the group in December 2011.
Wrapping up, Cornell said the Indian economy has never looked stronger. He believes that most investors should have Indian investments in their portfolios in the next five years.