Statistics
Japan's Central Bank Owns Huge Slice Of Domestic ETF Market – Data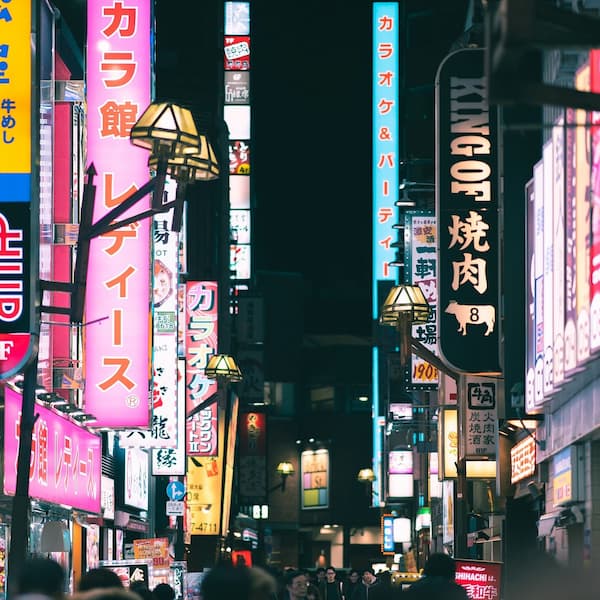 A data release is a reminder of how one of the world's major central banks owns more than half of its domestic ETF and exchange traded products market; the BoJ started the policy, a decade ago.
Japan's central bank owns almost two-thirds of all the assets invested in exchange traded funds and products in the country, highlighting how Japan's market for these index-trackers has been heavily influenced by the state.
The Bank of Japan owns 60 per cent of assets in ETFs and ETPs listed in Japan as at the end of November 2021, according to ETFGI, a research and consultancy firm covering trends in the market. ETFs and ETPs listed in Japan sustained net outflows of $3.51 billion during November, bringing year-to-date net inflows to $19.12 billion. Assets invested in the Japanese ETFs/ETPs industry have fallen by 3.7 per cent, from $555 billion at the end of October to $535 billion.
The BoJ started buying ETFs in December 2010 to bolster corporate and household sentiment due to sharp falls in stocks and to support the broader economy. The central bank has remained a big player in the market ever since. Reports have noted how government officials, scholars and market participants have been urging the BoJ to wean itself from the scheme, claiming that it is unsustainable and distorts market pricing. In the US, the Federal Reserve started buying ETFs in the spring of 2020 when markets crashed amid the COVID-19 pandemic. It halted such purchases in July. There are some parallels with central bank quantitative easing – purchases of bonds and other assets to inject fresh money into the economy.
To put these figures into context, ETFs and ETPs listed globally gathered a record $1.14 trilion in net inflows in the first 11 months of 2021. Assets rose by 24.2 per cent year-to-date in 2021, going from $7.99 trillion at end of 2020 to $9.92 trillion at the end of November.
Earlier in 2021, a former head of the BoJ's financial markets department, Hiromi Yamoaka, said that high levels of Japanese stocks added pressure on the central bank to change tack on its ETF buying policy. He warned that the BoJ could be aiding a share "bubble."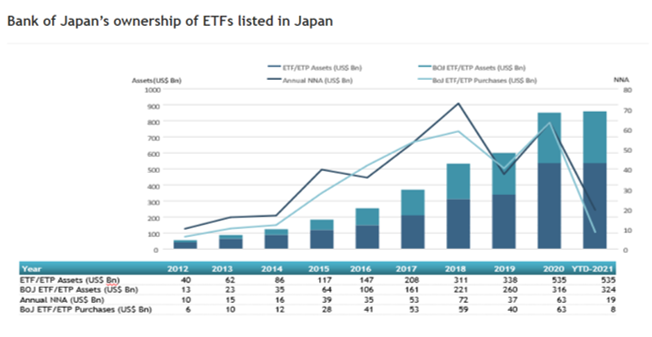 Source: ETFGI data sourced from ETF/ETP sponsors, exchanges, regulatory filings, Thomson Reuters/Lipper, Bloomberg, publicly available sources and data generated in-house.
ETFs are typically open-ended, index-based funds. ETPs, on the other hand are like ETFs in the way that they trade and settle, but do not use an open-end fund structure.