Investment Strategies
Japanese Equities: How They Fit Into Asia's Wider Growth Story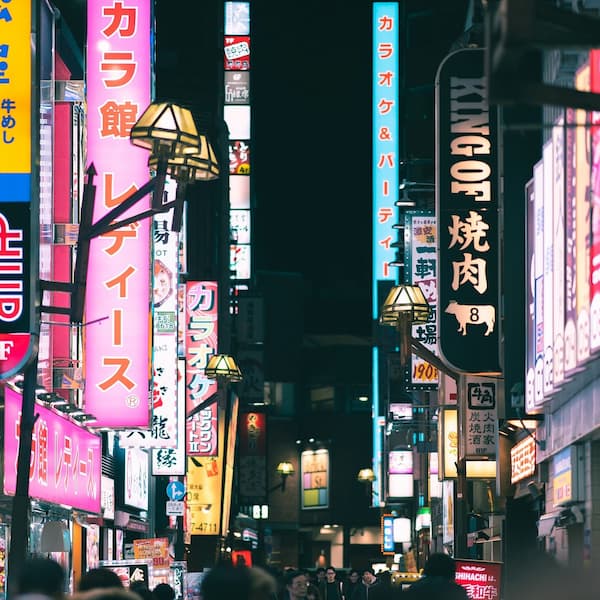 A number of Japanese companies are powering the wider Asian economic growth story, which is why investors must look at the country for how it fits into the regional picture, not just within its national boundaries, the author of this article argues.
The following commentary on the virtues of Japan as being a possible means of capturing the Asian growth story comes from one of Comgest's portfolio managers, Richard Kaye, who runs the Comgest Japan Equity Strategy.
For many years, investors and economists have wondered when or if Japan will emerge from a long period of sluggish growth. It is possible, some economists have told this news service, that a rise in inflation around the world might be a positive force for Japan, given its years of deflation. The country's government has also enacted corporate governance reforms making it easier to shake up business laggards. Japan, which has a rapidly ageing population, needs to find ways of improving growth, making it open perhaps to more reforms and changes.
The editors of this news service are pleased to share these insights and invite responses. The usual editorial disclaimers apply. Email tom.burroughes@wealthbriefing.com and jackie.bennion@clearviewpublishing.com
Active investment in Japanese equities has been one of the most successful stock market strategies globally for a decade, in our view, partly because it doesn't involve investing in the Japanese domestic economy (see Figure 1). Using Japan as a platform to invest in the rising wealth and sophistication of Asian consumers, or the growth and evolution of Asian industry, while avoiding the problems which have dogged, for example, Chinese equities, has been one of the big secrets of active Japan investment.
A number of Japan's most successful companies are global leaders geared to the rise of Asian and Chinese consumers and industry. These companies enjoy specific Asian growth themes but avoid contamination from mainland problems. Many of these companies' shares are longer-listed, more liquid and less expensive than Asian equivalents, and their balance sheets and governance are more transparent – if not yet by Western standards, at least in comparison with Asia.
Figure 1. Active Investing in Japan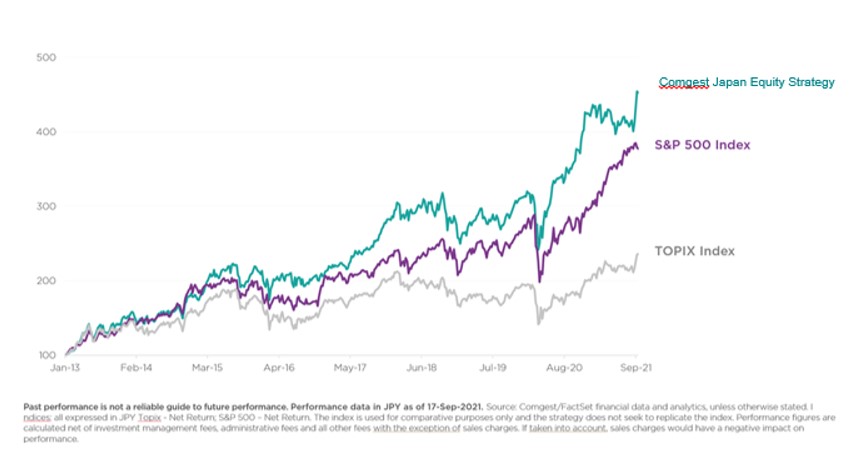 Source: Comgest
Although Japan's own consumer market growth is limited by its ageing population, a consumer market nine times larger is sitting on Japan's doorstep in the form of middle-class Asia, and some Japanese companies have proven highly adept at cultivating the Asian consumer. Japanese brands such as Kosé and Pola Orbis are well established in the high-quality skincare space, and China has become the main source of profit for them. Japanese clothes brand Uniqlo makes more money, and sells at higher prices, in China than in Japan (1), while Japanese baby bottle maker Pigeon has become the default quality choice for mothers using formula milk in China.
Much of Asia's discovery of Japanese brands began in the last five years when Japan liberalised tourist visas, and Chinese tourist arrivals tripled. (2) As the COVID pandemic seemingly eases, Japan began reopening its international borders this month (3) and intends once again to double its tourist arrivals by 2030 (versus 2019). Increasing tourism locks in advantages for Japanese consumer brands. Asians first buy the goods in Japan, and then want them when they get back home.
There is an undefinable appeal across Asia for "Made in Japan." The brand power of this label means that many Asian companies incorporate "Japan" or Japanese-sounding names into their marketing. For example, a leading Korean-manufactured baby bottle uses a Japanese-sounding name "Comotomo," and a Hong Kong variety store chain calls itself "Nihon no Ie," i.e. "Japanese House."
Japan is a byword for quality in Asia. A store manager at Don Quijote in Shibuya, Tokyo, told us that Chinese tourists come to his store to buy Moutai Chinese liquor – because they trust that it will be genuine if they buy it in Japan. A baby milk scandal in China in 2008, where melamine contamination caused 300,000 children to become ill (4), led Chinese mothers to put their trust in quality Japanese products, like those produced by Pigeon.
Japanese penetration into the continental Asian market is also evident in technology. As industry in China and its neighbouring countries becomes more sophisticated, Japan's unique technological capabilities in semiconductor equipment and materials, factory automation and medical diagnosis are proving indispensable. US companies simply do not compete in many areas such as semiconductor wafers, circuit miniaturisation inspection and robotics. When they do compete, geopolitical considerations have often favoured the Japanese, especially since the election of US President Trump.
Examples of Japanese companies on whom China and Asia heavily depend to reach the next stage of their industrial development include Shin-Etsu Chemical, the world's largest semiconductor wafer maker; Fanuc and Keyence, which develop machine tool controls; and Nidec, in electric vehicle engines (more precisely, traction motors). For high-tech precision medical equipment to support its burgeoning healthcare market, Asia depends on Sysmex, a company with great expertise in haematology, and Shimadzu for chromatographs. In other key technological and industrial areas Japanese companies stand out. Daikin, a manufacturer of industrial air conditioners with very good environmental credentials is taking a big share of the Asian market, as is Murata, a producer of smartphone components.
Japanese companies used to manufacture in Asia due to the cheaper labour costs vis-à-vis Japan; now they sell Asia the tools to make its labour more productive, and these rising-income workers buy Japanese brands. An investor in Japan can choose to focus on this virtuous cycle and leave aside the swathes of the Japanese market tied to Japan's ageing demography or the Asian markets whose destiny is bound too closely with disruptive government policy and increased regulation: the Silk Road lives on, and Japan is still at the beginning and end of it.
Footnote:
1, Yahoo! Finance, https://bit.ly/3nE26HS
2, https://www.reuters.com/article/us-health-coronavirus-japan-tourism-idUKKBN20T09C
3, https://asia.nikkei.com/Spotlight/Coronavirus/Japan-to-reopen-borders-starting-Monday2
4, https://www.bbc.com/news/10565838