Alt Investments
South Korean VC, Private Equity Assets Rise Quickly - Preqin
The figures highlight how the Asian nation has become more of a powerhouse in these important asset classes. These are classic destinations for the "patient capital" that wealth managers play in.
South Korea-based private equity and venture capital assets under management reached a record $113 billion at the end of last year, almost doubling in two years, figures from Preqin show.
Alternative investments such as venture capital and private equity have boomed worldwide because, as relatively illiquid assets, they can deliver superior yields to those of listed equities and government bonds. Wealth managers, and others, have pumped money into these sectors. Firms in some countries are also staying private for longer, delaying or even not bothering to list on the stock market.
"The South Korean private equity industry is now reasonably sized relative to the broader public equity market. And compared to other markets in APAC, private equity in South Korean remains relatively mature, with robust returns and fundraising. Should the Korean government enact meaningful corporate governance reform, the chaebols [large family-owned business conglomerates] represent an additional, untapped opportunity for private equity investors," Cameron Joyce, vice president, Research Insights, Preqin, said.
Buyout strategies make up 41 per cent of total assets under management, comparatively high for the Asia-Pacific market, and South Korea-based buyout funds raised a record $17 billion in 2020, the firm said.
As a mature economy, South Korea is expected to see increased buyout activity, with additional investment opportunities emerging due to the government's plan to reform chaebol governance, ultimately allowing large conglomerates to set up corporate venture capital funds, the firm continued.
Disruptive technologies continue to drive Korea's venture capital ecosystem, which saw a total of 871 transactions in 2020, up from only 308 in 2017. Total deal value has climbed as a result, reaching $5.3 billion in 2020 from $3.1 billion in 2017. Korea boasts a vibrant venture capital ecosystem, one that has produced several unicorns in the technology space. ("Unicorns" are privately owned companies worth $1 billion or more.)
The largest is currently Seoul-based mobile fintech platform Viva Republica, which has reached a $7.4 billion valuation following its latest investment in June 2021.
A report from global consultancy McKinsey & Co said that private equity funds outperformed other private market asset classes from 2008 - the year of the financial crash - to 2020. (See chart below.)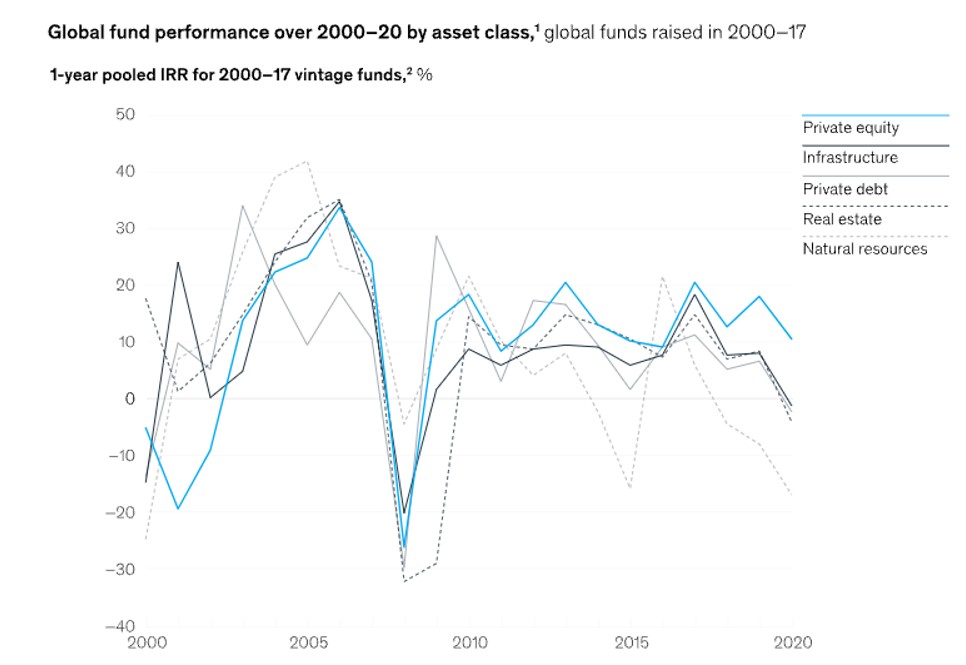 1, Fund performance assessed using an internal rate of return calculated by grouping performance of 2000 to 2017 funds during 2000 to 2020. Some data not available for certain periods.
2, Internal rate of return for 2020 is nine months (YTD, Q3 2020).
Source: Buriss, McKinsey & Co