Wealth Strategies
China's Macro Prospects: Five Key Questions - Matthews Asia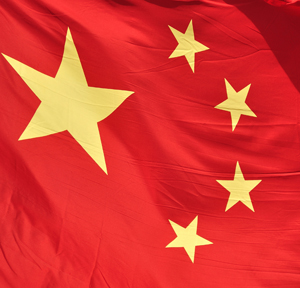 An investment strategist at the US-based Asia-focused firm delves into factors which he thinks are important for China in the months ahead.
Andy Rothman, investment strategist at Matthews Asia discuses five topics to think about the policy and macro environment for the next few quarters. The editors are pleased to share these insights; the usual editorial disclaimers apply. To respond, email tom.burroughes@wealthbriefing.com and jackie.bennion@clearviewpublishing.com
Just published macro data for the second quarter revealed few surprises, as the Chinese economy continued to recover from COVID-19. I am now focused on what lies ahead, and in this issue of Sinology I discuss five topics that will help investors think about the policy and macro environment for the next several quarters.
I expect the US-China political relationship to remain uneasy, at least through next November's Congressional mid-term elections. While this may weigh on investor sentiment, those political tensions should have little impact on the Chinese economy. Regulatory changes in China are being driven by concerns which are similar to those being addressed in Washington, London, Brussels other capitals around the world. Although they create short-term volatility, they are likely to be good for the long-term health of sectors as diverse as pharma, education and internet platforms. There is no evidence that the Chinese government has become less supportive of privately owned companies.
Manufacturing has completely recovered from the pandemic, but periodic, small COVID outbreaks have left many Chinese consumers wary of spending on services that require gathering in confined spaces. I expect the services sector to gradually recover as the share of Chinese consumers who have been vaccinated rises. The residential property market remains healthy, with limited leverage for buyers.
I expect some fine-tuning of monetary policy in the second half of the year, including a minor uptick in the pace of credit growth, but I believe the central bank when they say they "won't flood the economy with stimulus." De-risking the financial system should continue.
What is the direction of US-China relations?
The Biden administration has used less politically charged rhetoric, compared with the previous administration, in talking about China, but has continued to pursue an approach that can be best described as containment, albeit without specifically calling it containment. A senior White House official recently declared that "the period that was broadly described as engagement [with China] has come to an end" and, in the future, "the dominant paradigm is going to be competition."
The Biden administration has yet to even reverse some of the own goals scored by the previous administration, including shuttering two programmes - the Peace Corps in China and the US-China Fulbright programme - which promoted people-to-people exchanges and provided thousands of Americans with an opportunity to learn more about China.
The previous administration's punitive tariffs on Chinese imports have also not been withdrawn, despite clear evidence that they have been costly for American consumers and have not put pressure on China's exports, or on policy-makers in Beijing.
Economists at the Fed, Princeton and Columbia universities collaborated on a study which found that "the full incidence of the tariffs falls on domestic consumers with no impact so far on the prices received by foreign exporters."
Economists at the Fed also concluded that "the tariffs have not boosted manufacturing employment or output" in the US.
Despite the tariffs and political tensions, the share of manufactured goods imports coming into the US from China last year returned to the historical high of 22 per cent. In addition, China's share of global exports hit an all-time high of almost 15 per cent last year.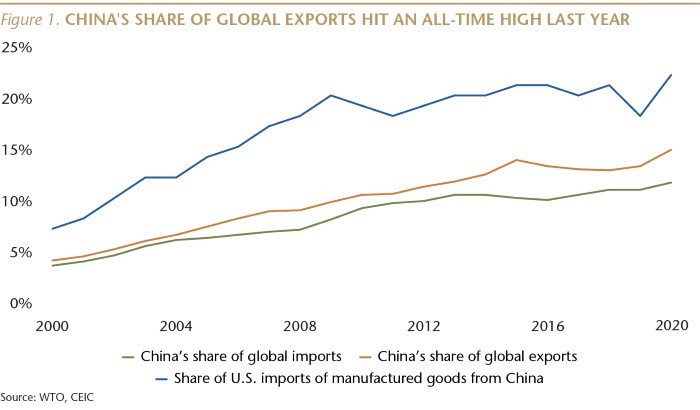 Yet, the tariffs remain in place.
I expect the bilateral political relationship to remain uneasy, at least through next November's Congressional mid-term elections. But, while these political tensions may weigh on investor sentiment, they are likely to continue to have little impact on the Chinese economy, which is fuelled primarily by domestic demand, not exports. Last year was the ninth consecutive year in which the services and consumption (tertiary) part of China's GDP was larger than the manufacturing and construction (secondary) part, as rebalancing continued despite the pandemic. Chinese consumer spending, as well as investment in their home equities markets, should remain well insulated from tensions with Washington.
What is the direction of China's regulatory environment?
I believe there are three factors which have influenced recent regulatory changes in China.
The first factor concerns the relationship between a few private companies and the Chinese government. Since allowing the re-establishment of privately owned firms in the 1980s, the government has made clear that while entrepreneurs are free to become rich and famous, they cannot use their wealth and fame to challenge the government on political and governance issues. Unsurprisingly, the government recently intervened after two well-known companies questioned or ignored the advice of regulators. This is one of the many reasons why we advocate for an active, rather than a passive, approach to investing in Chinese equities.
The second factor is the Chinese government's concern for data security and privacy, along with a desire to promote competition, protect consumer and small business interests, and tackle economic inequality issues. These considerations are very similar to the discussions taking place in Washington, London, Brussels and other capitals around the world regarding the best ways to regulate the tech industry, protect consumers and reduce inequality.
These regulatory changes in China, which have to date covered sectors as diverse as pharmaceuticals, online gaming, education, internet platforms and real estate, are likely to be good for the long-term health of these industries and China's economy. But, because the Chinese government has the ability to act quickly, and often does not clearly articulate its policy objectives, these changes can create short-term volatility in market sentiment.
The third factor is concern by the Chinese government about the rising tensions in the political relationship with the US, and the direction of President Biden's China policy. This may be leading the Chinese government to take steps to reduce the degree of interconnectivity between the two economies, including Chinese company participation in US capital markets.
It is possible that the Chinese government is anticipating that in the coming years American regulators may force Chinese companies to delist from US markets, and Beijing may want to block more companies from joining a club where they are no longer welcome. It is also possible that Beijing may encourage Chinese companies already listed in the US to switch to exchanges in Hong Kong, Shanghai or Shenzhen.
It is not clear how far the Chinese government wants to move in this direction, and recent rhetoric may largely be a signal to the Biden administration rather than an indication of a major change in Chinese regulatory policy.
Given the liberalisation of the Chinese capital markets, we are confident that despite the recent regulatory actions, which could prompt or accelerate the decision for Chinese companies listed on US exchanges to seek secondary listings on exchanges in Hong Kong or mainland China, investors such as Matthews Asia will still be able to access the opportunities presented by these businesses on behalf of the strategies we manage for our clients.
I would also like to emphasise that, in my view, there is no evidence that the Chinese government has become less supportive of privately owned companies. It is clear that private firms are the engine of China's growth and job creation. Almost 90 per cent of urban employment is in private companies, and private firms also account for the majority of China's exports.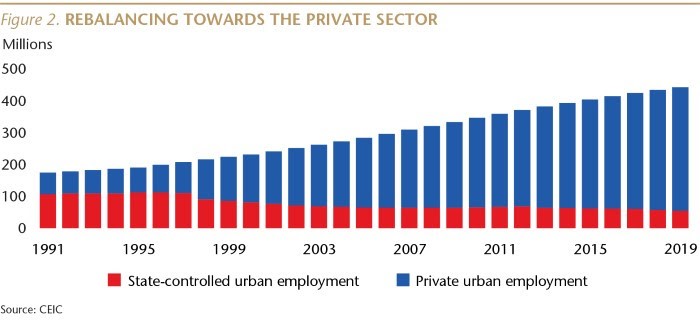 Privately owned companies are China's most innovative firms, and the government's economic growth plans are based on innovation. We also note that the two largest, publicly listed Chinese companies, by market cap, are privately owned. Privately owned firms also account for about 80 per cent of companies listed on China's science and technology board, its version of NASDAQ.
In the financial sector, I believe the government is encouraging limited competition. In January, a senior Chinese financial sector regulator stated that "the private economy is an indispensable driving force of our country." He added that "financial regulatory authorities have always supported the development of the private economy."
The regulator noted that "internet platform companies such as Ant Group ... have played an innovative role in developing financial technology, and improving the efficiency and inclusiveness of financial services."