Pandemic, Stock Market Create Mixed Fortunes For Hong Kong's Tycoons
Tom Burroughes, Group Editor , 26 February 2021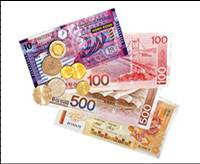 Hong Kong has been through turbulent times: stock market gyrations, a pandemic, and the continued tense political situation after the mainland imposed a national security regime last year. What happened to the richest people in the jurisdiction and who has risen and who has fallen down the rankings?
While the combined wealth of tycoons on the 2021 Forbes Hong Kong Rich List rose by 7.5 per cent to $331 billion, up from $308 billion from a year earlier, more than half saw a pandemic-induced drop in their net worth, Forbes reported yesterday.

Hong Kong's economy contracted by 6.1 per cent in 2020, its worst performance since 1998 during the Asian financial crisis. Stock market gains provided some reprieve as the benchmark Hang Seng index was up by 5 per cent since fortunes were last measured 13 months ago.

Li Ka-shing reclaimed his prime position as Hong Kong's richest person this year, due to a 20 per cent jump in his fortune to $35.4 billion. While the share price of his property developer CK Asset Holdings fell by 27 per cent, Li benefited from his stake in the US-listed videoconference provider Zoom.

Property tycoon Lee Shau Kee, who surpassed Li last year by a slim lead, saw his wealth remain relatively unchanged and ranks at No. 2 with $30.5 billion. Henry Cheng and family added $1.4 billion to their net worth of $22.1 billion, retaining the third spot on the list.

This year's biggest dollar gainers by far were husband and wife Yeung Kin-man and Lam Wai-ying, who benefited from the soaring demand for smartphone glass covers made by their company Biel Crystal. The duo more than doubled their wealth to $18.6 billion and jumped six spots to no 4.

Wong Man Li (no 14, $6.3 billion) of furniture maker Man Wah Holdings, was this year's biggest gainer in percentage terms. His net wealth was up by 200 per cent, as demand in China for the company's products boosted annual revenue by 19 per cent to $857 million for the year ended September 2020.

Horst Julius Pudwill (no 12, $6.7 billion), whose net wealth was up by 81 per cent, is featured on the cover of the latest issue of Forbes Asia. Shares in his Techtronic Industries jumped on booming sales of power tools and floorcare products.

Real estate
More than half of the 27 listed individuals who saw their fortunes decline this year were property tycoons, as the real estate sector was hit hard by the pandemic. Peter Woo (no 7, $17 billion), who took his Wheelock & Co private last June, bucked that trend. His wealth gained by 47 per cent, as the company saw a 52 per cent surge in value after ending its 57-year run as a listed company.

The fortunes of other property magnates took a hit, including Joseph Lau (no 8, $13.5 billion) of Chinese Estates Holdings, Tang Shing-bor (no 19, $4.75 billion) of Stan Group, Pan Sutong (no 41, $1.8 billion) of Goldin Properties, Vincent Lo (no 42, $1.75 billion) of Shui On Land and Vivien Chen (no 48, $1.25 billion) of Nan Fung Group. Lau's brother Thomas Lau, who derives much of his wealth from malls and real estate, dropped off the list altogether.

The top 10 people richest in Hong Kong are:

1) Li Ka-shing; $35.4 billion;
2) Lee Shau Kee; $30.5 billion;
3) Henry Cheng and family; $22.1 billion;
4) Yeung Kin-man and Lam Wai-ying; $18.6 billion;
5) Lui Che Woo; $17.8 billion;
6) Lee Man Tat; $17.4 billion;
7) Peter Woo; $17 billion;
8) Joseph Lau; $13.5 billion;
9) Kwong Siu-hing; $13.4 billion; and
10) Joseph Tsai; $12.5 billion.