Vietnam's Investment Promise: What Wealth Managers Say
Editorial Staff, 28 October 2020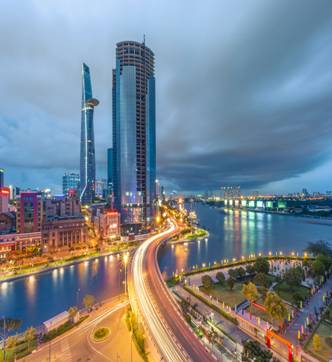 Here is a collection of views from a raft of UK-based asset management figures who focus on, or who have significant exposures to, Vietnam. The Southeast Asian country has become one of the darlings of the emerging markets investment space.
Dien Vu Huu, Portfolio Manager of Vietnam Enterprise Investments Limited
Having dealt with SARS in 2003, Vietnam responded quickly to COVID-19. From early March air, land and sea borders were all but sealed to human traffic though not to trade. Formal lockdowns have been few, brief and localized, which has limited the economic impact while monetary and fiscal easing have been aggressive, with local government bonds now bearing negative real yields. Hospitality and tourism have been affected of course, but domestic consumption has rebounded and stabilised and exports continue to grow. The unfreezing of infrastructure spending has added another driver of growth which is being reflected in the local market.

Opportunities in Vietnam
Gabriel Sachs, Manager on Aberdeen Standard Asia Focus, said: "We are bottom-up investors of course but from a macro perspective we are very positive on Vietnam and have been building positions in a couple of companies over the past two years or so. At the moment we have almost 4 per cent of the portfolio in Vietnam. The two companies operate in very different sectors – Nam Long is an affordable housing developer primarily based in Ho Chi Minh City and the other, FPT Corp, is a conglomerate which operates primarily in the IT services industry but has fast-growing telecommunications and education businesses. It is by far the leading tech company in Vietnam hiring a third or more of all computer science graduates in the country, many of whom study in FPT's own campuses.

Khanh Vu, Co-Manager of VinaCapital Vietnam Opportunity Fund
Currently the manufacturing sector accounts for less than 20 per cent of Vietnam's economy, but manufacturing contributed over 30 per cent of GDP in each Asian Tiger economy at the peak. This is an indication of the extent to which Vietnam's future economic growth will be driven by the further development of the manufacturing sector - and the COVID-prompted relocation of factories from China to Vietnam will accelerate this development.

Emily Fletcher, Portfolio Manager of BlackRock Frontiers
The young, relatively well educated, and increasingly connected population has helped steer change in how businesses interact with consumers. With over 51 million smartphone users, representing 80 per cent of the population aged 15 years and older, awareness of mobile internet and usage has increased, sparking further evolution of retail services. Similarly, the global trend of improving health and wellness has not been lost on Vietnam, leading to shifts in nutritional preferences and the way people shop for food. Seen through this lens, consumer related industries remain preferred areas for investment.

Dien Vu Huu, portfolio manager of Vietnam Enterprise Investments Limited
"An innovator worth mentioning is Mobiworld Group. It is Vietnam's top retailer, with 3,600 stores nationwide, selling mobile phones and consumer electronics, and is now moving into small supermarkets. Management has proven adept at deploying technology and systems to roil up fragmented industries, leading Vietnam into the modern trade era.