New Office
Venture Capital, Investments House Sets Up In Singapore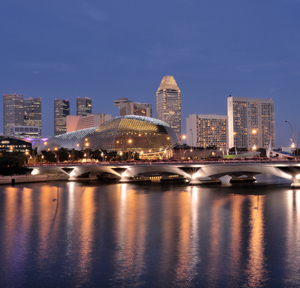 The arrival of this business is part of a wider trend of VC-driven growth in Asia.
Fidelity International's venture capital and investments group, Eight Roads, has opened in Singapore in a move to tap growth in the Southeast Asian economy.

The team at Eight Roads will concentrate on making early-growth and growth stage investments of up to $30 million in areas such as technology, healthcare, consumer and financial services.

The business, which has operated in India and China, already has Southeast Asia investments, such as in a virtual credit card company, Akulaku; generic pharmaceutical manufacturer, Eywa Pharma; and one-stop banking platform, Silot.

The new office sees Raj Dugar, Asia managing partner, move to Singapore from India; he will lead the combined India and Southeast Asia operations. Dugar joined Eight Roads in 2007 and set up the India team.

"Southeast Asia has several early-stage and late-stage funds that cater well to the start-ups and more mature companies. The growth-stage companies, looking at raising Series B/C/D rounds, have had limited access to capital given the lack of global funds operating in the region," he said.

"We see phenomenal opportunity in this segment, and look forward to helping entrepreneurs as they scale their business, providing access to our global network of expertise and contacts," Dugar continued.

The Asia region is seeing more venture capital activity. A few days ago, Singapore-based Golden Equator Capital and Korea Investment Partners launched a S$120 million ($88 million) venture capital fund to invest in Southeast Asian tech businesses. The offering is called the "GEC-KIP Technology and Innovation Fund". Globally, VC activity remains brisk, and in Asia, China has been a significant driver. VC-backed deal making chalked up a record high in the second quarter of this year, with 3,686 deals made with a combined value of $74 billion - with the Spotify deal proving one of the hightlights.

Deal value is more than $20 billion more than the previous record of $53 billion recorded in the fourth quarter of 2017, with "unprecedented deal-making for China-based companies", according to Preqin, a research firm tracking alternative asset classes such as private equity, real estate and hedge funds.